Description
Cannes a classic style stainless steel waterfall in contemporary shape with water flowing down mirror panel.
1.83meter Tall Waterfall has a centre mounted silver mirror panel,  ideal for outdoor or large indoor areas, the basin can be buried into the ground to create a natural effect that the water is flowing along the natural settings & landscape.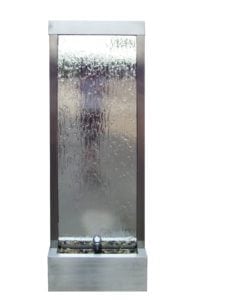 Size 183cm H, 61cm W, 29cm D
LED lights at base creates a fascinating effect at night with magic water sounds.